Ways to get your school, group or team involved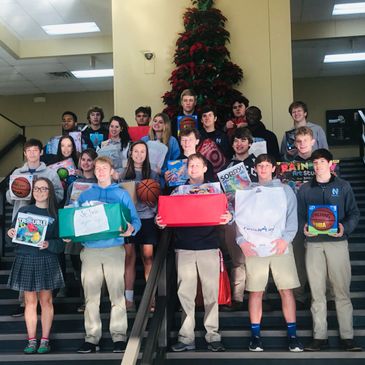 Our Santa Cause School Outreach Program is a way for students of all ages to give back to others. SANTA CAUSE School Outreach is a program of Childhood Cancer Family Fund, a tax exempt nonprofit organization. Whether you are an individual, school, team or school group you can help provide Christmas gifts to St. Jude Hospital pediatric cancer patients living at Target House.
Last year the Program was part of Childhood Cancer Family Fund's collection and delivery of $80,000 in Christmas gifts to the kids at Target House. Schools, groups and teams from Louisiana, Tennessee, Maryland, Kentucky and Mississippi participated.
You can find out more about Childhood Cancer Family Fund at ccff.info
WAYS TO GET INVOLVED
-Toy Drive- a straight forward collection of new items suitable for Christmas gifts for ages newborn to 19 years old.
-Student Fundraising Event or Campaign - a student designed and executed fundraising activity or event. Money raised is turned over to CCFF to purchase Christmas gifts for the kids at Target House.
Donation delivery is normally in December.
-Amazon Gift Card Drive- Participating Schools may opr for an Amazon gift card collection instead of a toy drive. Schools from outside our pick up area simply collect Amazon gift cards and mail them to CCFF at the conclusion of their collection drive. (Other gift cards gladly accepted)
-COINS 4 KIDS COLLECTION- great for schools. Classes can compete for the highest total collected. Schools can even provide a small reward for winning classes like a free dress day or ice cream at lunch.
CCFF will pick up any School's donated toys within a 100 mil radius of Louisville, Kentucky , Choudrant, Louisiana and Memphis, Tennessee. More cities will be added soon!
Outside our pickup areas we encourage you to participate by choosing the fundraiser/collection, coins 4 kids or gift card drive options.
*** Target House will not accept:
-used items
-stuffed animals due to infection control
-items with glitter
-medical themed toys
-any item with a skull and crossbones
-items with chalk
TO GET STARTED or for more information contact:
Cindy McElduff, School Outreach Program Director
318-245-0791 cindy@santacause.info
or
Mike Crask, President CCFF
502-930-9601 mikecrask@ccff.info